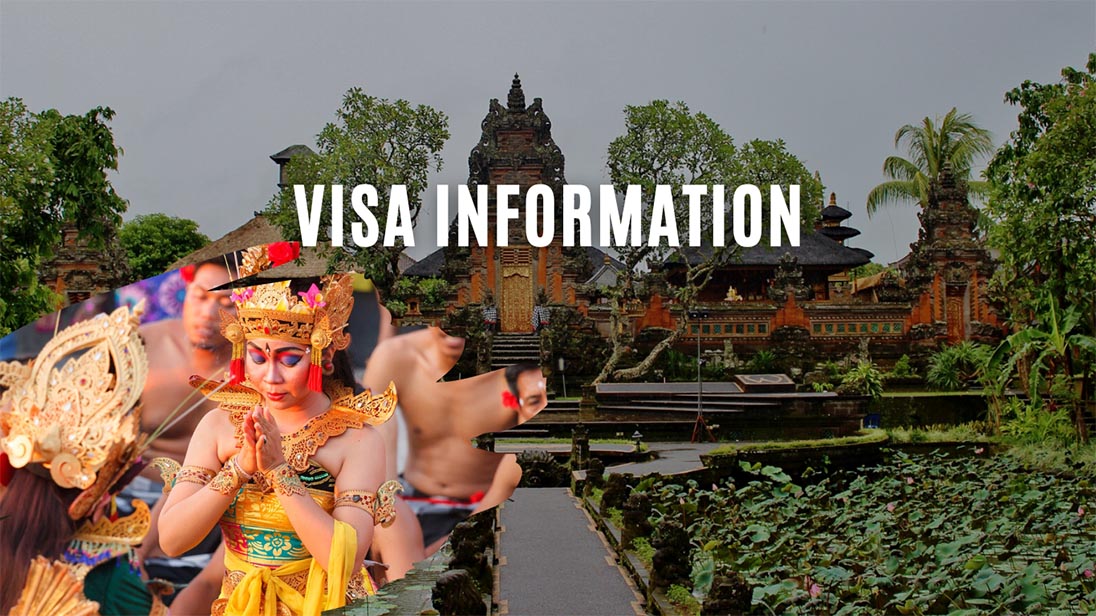 Countries/Regions which require a visa for entry into Indonesia, Bali
The following countries required a visa to enter Indonesia:
Afghanistan
Algeria
Angola
Cameroon
Central African Republic
China
Congo
Democratic Republic of the Congo
Egypt
Equatorial Guinea
Gabon
Ghana
Guinea
Iraq
Israel
Libya
Liberia
Mali
Morocco
Niger
Nigeria
North Korea
Pakistan
Palestine
Saudi Arabia
Somalia
South Sudan
Sri Lanka
Sudan
Syria
Tunisia
Yemen.
The following countries were eligible for visa on arrival to enter Indonesia:
Andorra
Argentina
Australia
Austria
Bahrain
Belgium
Brazil
Bulgaria
Cambodia
Canada
Chile
China
Croatia
Cyprus
Czech Republic
Denmark
Dominica
Ecuador
Estonia
Fiji
Finland
France
Germany
Greece
Hong Kong SAR
Hungary
Iceland
India
Ireland
Italy
Japan
Kuwait
Laos
Latvia
Liechtenstein
Lithuania
Luxembourg
Macau SAR
Malaysia
Maldives
Malta
Mexico
Monaco
Netherlands
New Zealand
Norway
Oman
Panama
Papua New Guinea
Peru
Philippines
Poland
Portugal
Qatar
Romania
Russia
Samoa
San Marino
Seychelles
Singapore
Slovakia
Slovenia
Solomon Islands
South Africa
South Korea
Spain
Suriname
Sweden
Switzerland
Taiwan
Tanzania
Thailand
Timor-Leste
Tonga
Turkey
United Arab Emirates
United Kingdom
United States of America
Vatican City
Venezuela.
However, visa requirements may change over time, and it is always advisable to check with the nearest Indonesian embassy or consulate for the latest information.
Please mark your calendar for Joint Annual Conference 2023, Register now !!!